Rotary Rack convection oven is particularly suitable for baking of pastry products, gastronomy products and big or small breads. It is useful for confectioners, restaurants and hotels. At the bottom of the oven there is a fermentation cabinet for the yeast having dough. This oven has a very good uniformity of baking and vaporizer placed inside the baking chamber. High quality insulation ensures energy saving. It is produced with electricity and gas.
Model
Unit
PMRC 10
Number of tray
pcs
10
Dimensions of trays
cm
40x60
​46x66*
Distance between trays
mm
80
Width (W)
mm
1050
Length (L)
mm
1280
Height (H)
mm
1440
Control system
Analogue, Digital or Touch Screen
Energy source
Electricity
Gas
Electrical power
kW
24
1,5
Voltage
V / Hz
380 / 50
380 / 50
Gas consumption / pressure
m³/h (mbar)
-
1 (20)
Heating capacity
kcal/h
-
20000
Weight of oven
kg
310
330
Electrical power for fermentation cabinet
kW
3
3
Height of fermentation cabinet (H1)
mm
775
775
Weight of fermentation cabinet
kg
50
50
Number of tray in fermentation cabinet
pcs
16
* On request.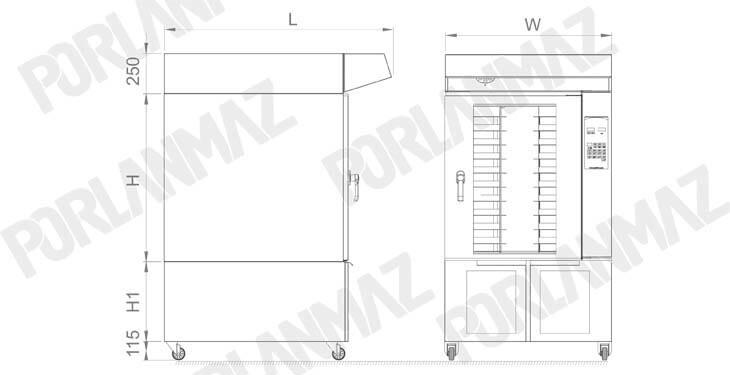 Manufacturer reserves the right to change specifications without prior notice.