The major specification of mini deck oven (modular oven) is each deck can be operated independently. Temperature and the time of steam can be adjusted for each deck as per the request. Thus, it provides an opportunity to bake diff erent sort of products in each deck. For being fermented there is a fermentation cabinet and its temperature and humidity can be adjusted. It is used with single deck also modular and according to need it can be added extra deck, chimney hood and fermentation cabinet. It provides low energy consumption. It can be moved by means of its wheels. Optional stand is produced for the oven. It is produced with electricity.
Model
Unit
PMKF 6
PMKF 12
Width (W)
mm
960
1600
Length (L)
mm
1650
1650
Height (H) (one deck)
mm
350
350
Inside width of oven
mm
600
1200
Inside length of oven
mm
900
900
Insıde height of oven
mm
180/210
180/210
Height of chimney hood(H2)
mm
250
250
Height of fermentation cabinet(H1)
mm
650
650
Number of tray in each deck (dimensions of trays)
pcs (cm)
2 (35x45)
2 (40x60)
1 (60x80)
6 (35x45)
4 (40x60)
2 (60x80)
Electrical power
kW
5+3
10+3
Electrical power for fermentation cabinet
kW
3,5
3,5
Control system
Analogue, Digital or Touch Screen
Weight of oven (1 deck)
kg
162
270
Weight of fermentation cabinet
kg
70
150
Number of trays in fermentation cabinet
pcs
8
16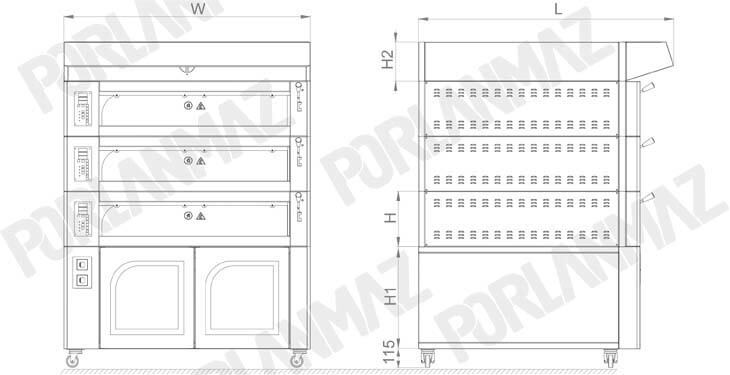 Manufacturer reserves the right to change specifications without prior notice.