Rotary Rack convection oven is particularly suitable for baking of baking pastry products, gastronomy products and big or small bread.It is useful for confectioners, restaurants and hotels. Heat distribution on the product is obtained through the forced circulation of heated air, by means of three pcs fans. This oven has a very good uniformity of baking and vaporizer placed inside the baking chamber. High quality insulation ensures energy saving. It is only produced with electricity.
Steaming system
Height of entrance ramp: 47mm.
Rotary platform for trolley
Double glass door
Ergonomic door handle
Uniform baking
Compact dimensions
Illumination system
Chimney and exhaust fan
Completely made of stainless steel
Model
Unit
PMRC 15
Number of trays
pcs
15
Dimensions of tray
cm
40x60
46x66*
Distance between trays
mm
80
Width (W)
mm
1220
Length (L)
mm
1220
Length (L1)
mm
940
Length (L2)
mm
1310
Height (H)
mm
1910
Height (H1)
mm
1660
Max. temperature
oC
300
Control system

Analogue, Digital or Touch Screen

Energy source
Electricity
Electrical power
kW
35
Voltage
V / Hz
380 / 50
Weight of oven
kg
720
* On request.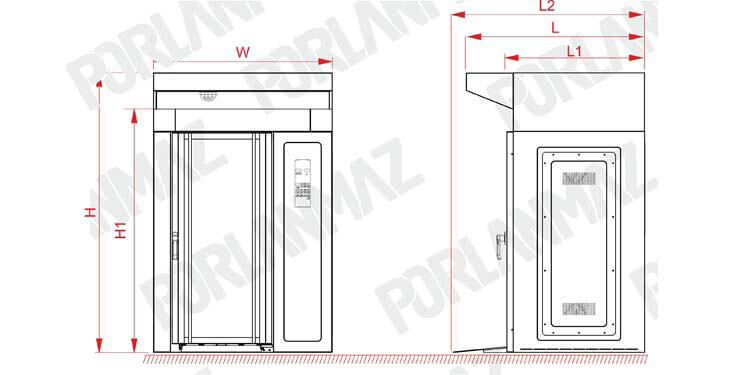 Manufacturer reserves the right to change specifications without prior notice.